Woodland Hills Martial Arts Camp
A Martial Arts Camp Your Child Will Love!
Summer doesn't have to be wasted away sitting in front of computer and TV screen. your child can have a fun, educational summer playing games, learning Jujitsu, creating crafts, and making friends! At KSK Martial Arts Academy we encourage our Martial Arts Camp students to embrace new experiences and learn new skills. Each week students explore a different martial arts theme and set goals for themselves to achieve!
Martial Arts Camp Activities Include:
Basic self defense classes, integrated with skills and maneuvers from Jujitsu
Awesome games that help develop physical attributes like coordination, flexibility, strength, and agility
Team building activities that promote social skills
Padded samurai weapons training - A new experience your child won't forget
Arts and crafts that will bring out your child's creativity
And more!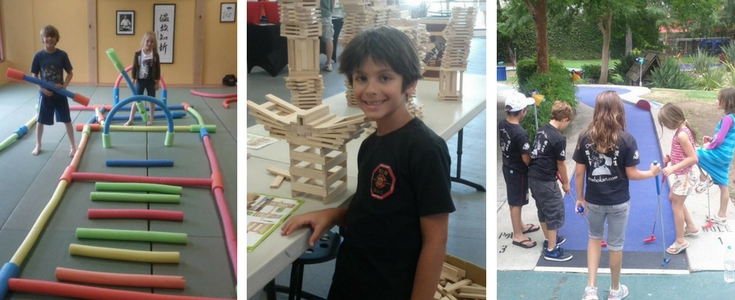 A Summer Camp Experience Your Child Will Remember
Children who attend elementary and middle schools in the Woodland Hills area are welcome to participate in our Martial Arts Camps! If you want your child to have a enjoyable and unforgettable summer camp experience all you have to do is fill out the short form on the side of this page.
ASK ABOUT OUR TRAINING SPECIAL
Camp Dates and Sessions:
July 10 - August 11

Hours:
9 am - 3 pm
We offer Early Drop Off (7:30 am - 9 am) By Pre-Arrangement.
Current active members may stay as late as 6:30 pm.
Early Bird Pricing:
Active Dojo Members $189 per week
$55 daily until May 31st.
5 Weeks Paid in Full $850.00
10 Day Block $380.00
Pricing After May 31st
$225.00 Per Week
$65 daily
5 Weeks Paid in Full $999.00
10 Day Block $440.00
Additional Details:
Students please bring a bag lunch.
Lunch can be provided for $10.00. Water will be available to camp members at no charge. Snacks will be available to purchase.
Weekly Paid in full tuition includes a t-shirt, arts & crafts materials.
Late pick up fee $5 every five minutes after 6 pm.
We offer FULL REFUNDS or CREDIT on any days or weeks not used. Payment in full when booking. Certain discounts may not be combined.
PLEASE FILL OUT THE ENROLLMENT FORM AND ONLINE REGISTRATION BELOW.