Woodland Hills Kids Martial Arts Classes
Beginner Kids Martial Arts Classes Enrolling In October
Kids Martial Arts classes at KSK Martial Arts Academy are the perfect activity to get your child active while instilling important characteristics like courtesy, respect, focus, confidence, and discipline. We welcome kids and youth from 4 to 16 years old to join! Our experienced instructors work to help each child set realistic goals, and exceed them!

A Fun, Nurturing, Age-Appropriate Activity Kids Will Love
Our classes are segmented by age group to keep our students in a learning environment that challenges them, without becoming overwhelming. Our Martial Arts programs are as follows:
Tots (4-6 year olds): We have geared this program to meet the specific needs of children 4 to 6 years old. Our Tots classes teach kids in this age group gross motor skills, focus, coordination, spatial awareness and balance. These students also develop key social skills by interacting with others and working together as a team.
Kids (6-12 year olds): Life skills and problem solving training are incorporated into every one of our Kids Martial Arts classes. This class not only serves as a great way to learn self defense moves but also doubles as a perfect social outlet for kids to have fun and burn some energy!
Teens (12 - 16 year olds): Our teens class is the prefect place for kids too skilled for kids classes but not quite ready to take on adult classes yet. Our instructors give this age group the special attention they need to develop their skills to reach advanced class levels.
Our Adult Classes are comprised of students 16 years and older. To see more about our Adult Martial Arts classes CLICK HERE.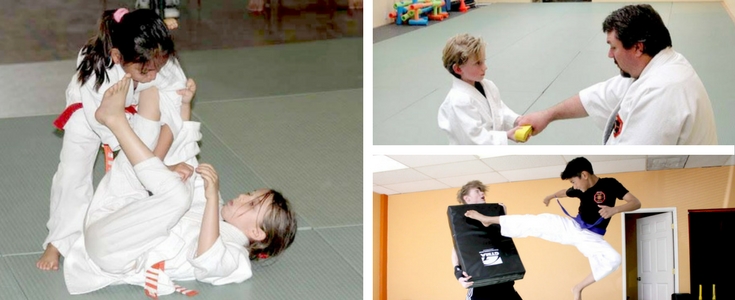 All Kids Who Participate In Martial Arts Will Benefit with:
Increased confidence
Boosts in focus, and concentration
Enhanced strength, flexibility and balance
Healthy weight maintenance
And a fun event to look forward to!

Sign Up For Kids Martial Arts Classes in Woodland Hills Today!
If you are interested in enrolling your child in these fun and educational self defense classes simply fill out the short form on the side of this page. This no-obligation form will allow us to reach back out to you with helpful information and additional details about our programs.