Alex O'Neill Martial Arts Instructor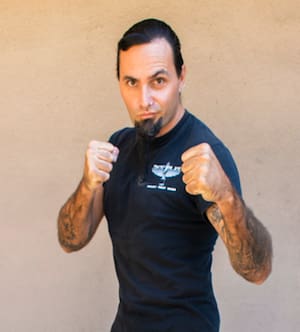 Alex O'Neill
"I love Martial Arts regardless of the style, it is my life and my passion" - Alex O'Neill
Alex O'Neill first encountered Traditional Asian Martial Arts in his late teenage years and he started to train on a professional level at the age of 21. He achieved three levels of Black Belt in the Japanese Style of Aikido and a brown belt first kyu in the Japanese Style of Budokai Bushido.
The reason behind his profound dedication in learning the Art of Self Defense and Self Awareness has been generated by having had first-hand witness to domestic violence in his early years, as well as bullism in school.

Which is still a horrendous problem that a large number of households and schools still endure nowadays.?Alex's first and foremost importance in teaching Martial Arts is the empowerment of those who feel that they may be helpless, and teaching that being weak is mostly a state of mind.
After twenty years of international training, Alex still enjoys the elegance and tradition of the ancient Japanese samurai style of weaponry, as much as classic empty handed combat.
Yet, in the last decade, he has expanded into more modern and cutting age self defense styles, primarily Israeli Krav Maga under Chief U.S. Instructor David Kahn – Gidon's System, where he has focused in learning self defense from knives and guns attacks and, also, Brazilian Jiu Jitsu for the ground floor side of self defense.

2010 – to present Isaeli Krav Maga / Brazilian Jiu Jitsu / Grappling / Kick Boxing / Self Defense / Weaponry – Cayman Islands, USA
2001 – 2005 Bob Breen Academy Jeet Kune Do / Kick Boxing / Weaponry – UK
1998 – 2000 Kali Escrima Arnis / Jeet Kune Do / Weaponry – Italy
1997 – 2008 Aikido / Weaponry – Italy / UK
1997 – to present Budokai (Bushido) / Weaponry – Italy / USA
CLICK HERE FOR ALEX'S RECOMMENDATION LETTER